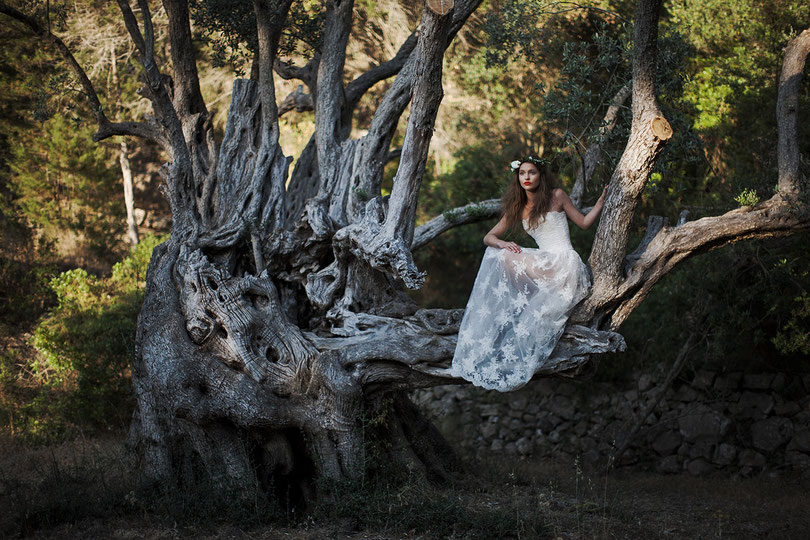 "Her heart was wild
but I didn't want to catch it
I wanted to run with it
to set mine free"
Atticus
I AM HAPPY to share with you my last bridal editorial set in a forest of Ibiza. I`ve really enjoyed throughout the whole process, from the organization and art direction to the moment of taking the photographs. I've had an splendid team that understood perfectly the concept I had in my mind.
In my art artistic work (I invite you to see it HERE) I do constructed photography although I always leave a room for the improvisation of the moment.  I love to plan the scenarios, the lighting and the rest of elements to be included in the scene. Here I have worked in the same way, the photo shoot was located in a wonderful place with a beautiful model with an inner and outer beauty. I was delighted to explore both hers wild and hers sweet side, which has not been difficult, as you will see below.
I am very grateful to all the professional team which have collaborated, at the bottom you can find full credits and know a little more of each one of them.
I wish you enjoyed the pictures as much as I enjoyed while pressing the shutter of my camera.
"Su corazón era salvaje
pero yo no quería atraparlo
quería correr junto a el
para liberar el mío"
Atticus

ME ALEGRA compartir con vosotros mi última editorial de novia realizada en un bosque de Ibiza. He disfrutado mucho durante todo el proceso, desde la organización y dirección de arte hasta el momento de hacer las fotografías. He contado con un equipo espléndido que entendió a la perfección el concepto que tenía en mente.
En mi obra artística, la cual os invito a ver AQUÍ realizo fotografía construida y aunque siempre dejo un margen a la improvisación del directo, me encanta planificar los escenarios, la iluminación así como todos los elementos a incluir en la escena. Aquí he trabajado de la misma manera, en una maravillosa localización con una modelo muy bonita por fuera y por dentro. Me ha encantado explorar su lado salvaje y su lado dulce, lo cual no ha sido difícil, cómo veréis a continuación.
Estoy muy agradecida a todo el equipo de profesionales que ha colaborado, más abajo podéis ver los créditos completos y conocer un poquito más de cada una de ellas.
Deseo que disfrutes las imágenes tanto como yo disfruté mientras apretaba el disparador de mi cámara.